HCEC's main objective following any storm is to restore power to critical facilities and help as many people as possible.  Take a look at the graphic below for a deeper understanding of how we operate after a widespread outage occurs.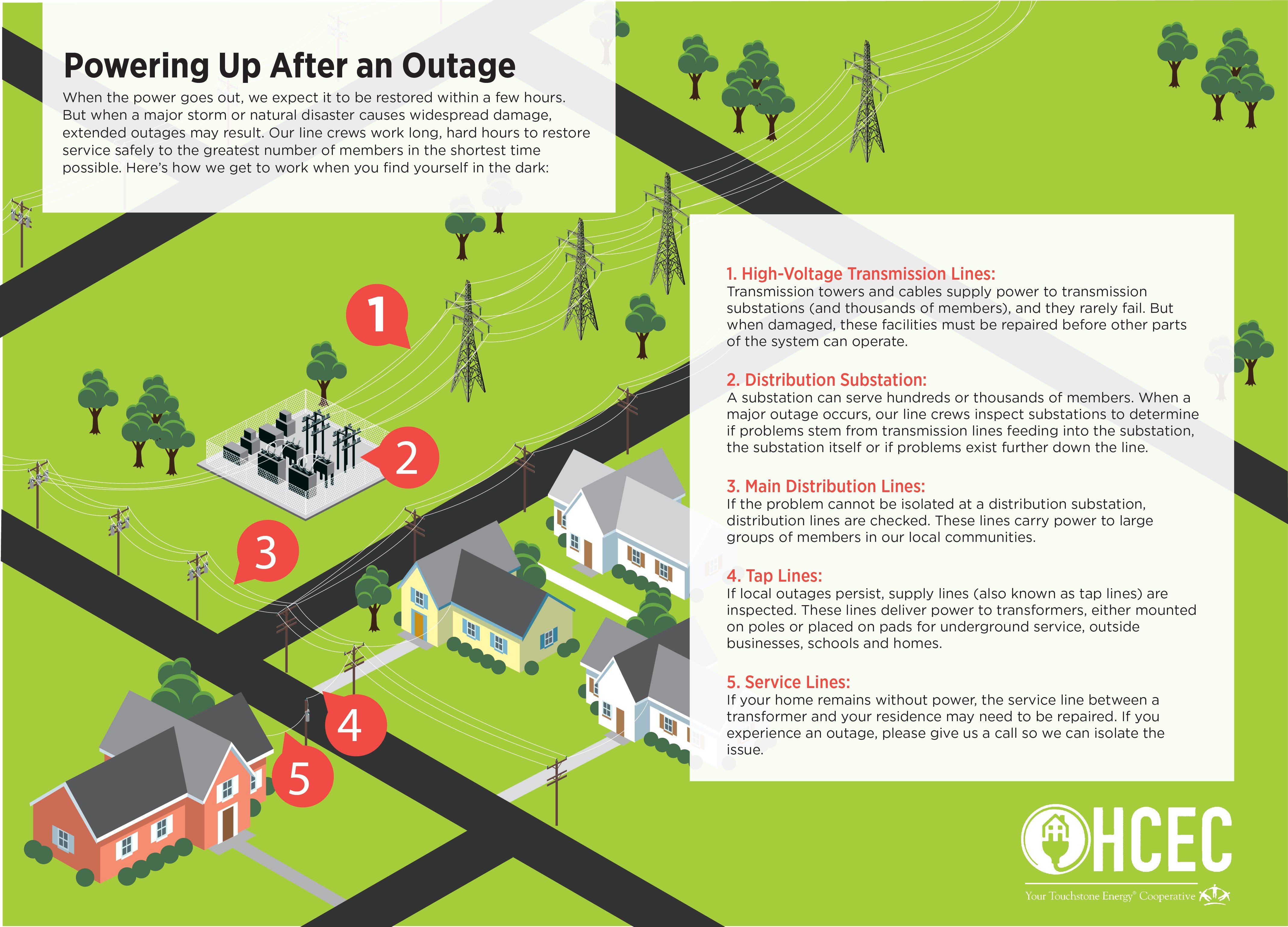 We advise consumer-owners to build and store a disaster supplies kit in their home, and/or vehicle if possible. You never know when you may need this kit in case of an emergency or extended power outage. To assemble a disaster supplies kit, consider the recommendations of the American Red Cross.
Here are some suggested disaster supplies kit items:
Your meter number/account number

HCEC Outage Hotline #: 1-800-970-4232

Emergency contact numbers

Battery-powered radio & extra batteries

Candles & matches

Flashlights & extra batteries

First-aid kit & medications

Nonperishable food, MREs

Hand-operated can opener

Water
If Your Power Is Off
Check your home's breaker panel (and any outdoor disconnects) to make sure the outage is not due to a tripped breaker.
If you determine the problem is outside your home, call the outage hotline. Call any time your power is out. Do not assume that others have reported the outage.
Keep refrigerator and freezer doors closed. Food should keep for up to 48 hours in a freezer if the door remains closed. If the outage persists, cover your refrigerator or freezer with a blanket, make arrangements to store food at another location, or purchase dry ice.
Turn off all electrical appliances that were on when the power went off, especially heat pumps, air conditioners, or electric heat. But leave a light on so you will know when power is restored.
Extended Outages
During a prolonged outage, consider finding other accommodations for children, elderly relatives, and anyone who is ill.
Don't cook inside with charcoal. Be extra careful with candles, kerosene lamps, heaters, and fireplaces.
Have a supply of water on hand.
Help Us Restore Power Safely
Please be aware of our service vehicles parked along roadways. Call HCEC to report outages and any unsafe conditions - sparking power lines. Stay away from these lines, as well as all downed power lines. You should always act as if a downed line is energized.
For more safety tips, please visit: