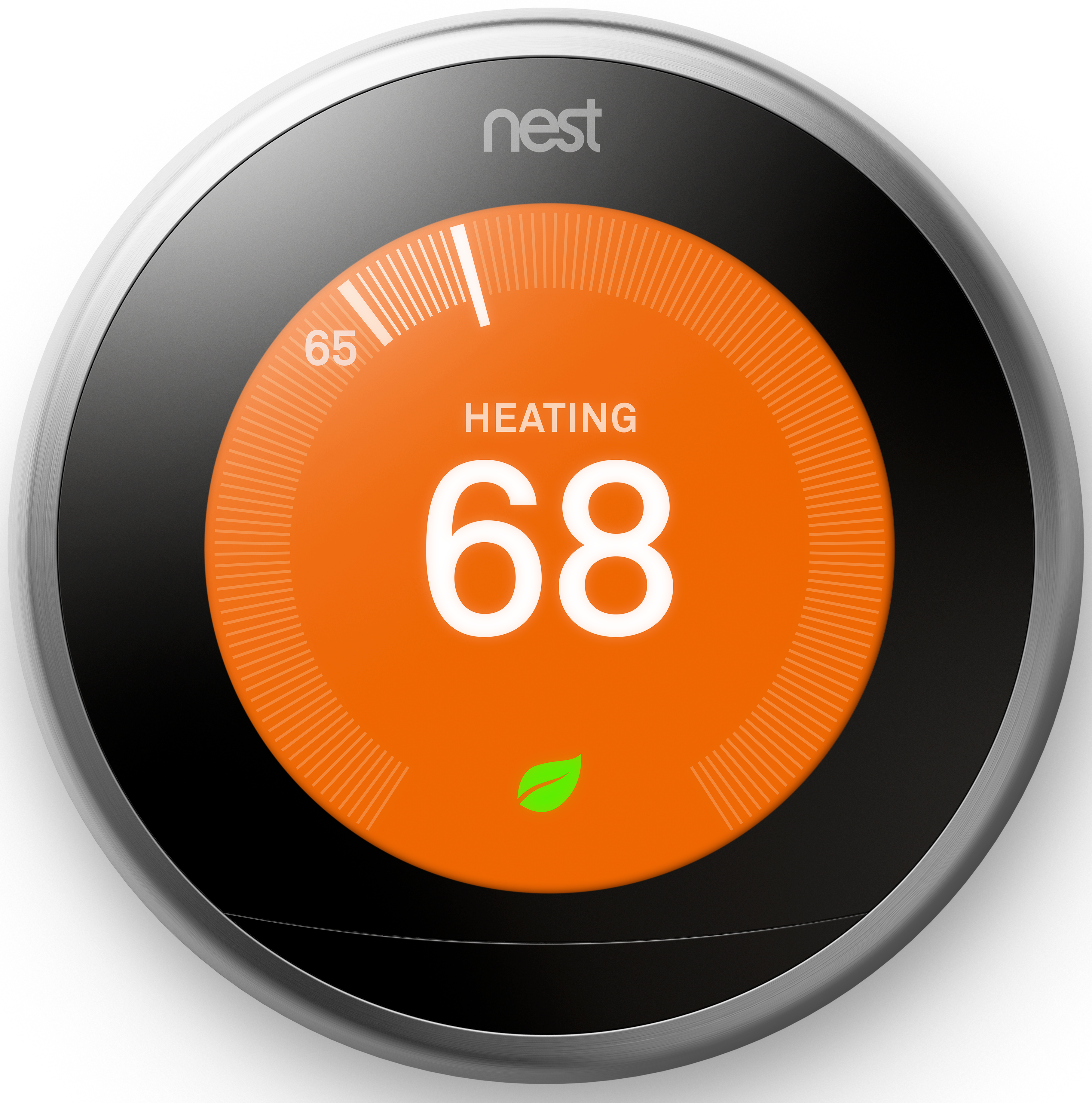 It's easy to save energy.
As part of our ongoing effort to offer first-in-class solutions to our members, we have partnered with Nest, the creators of the thoughtful home devices, to bring a cutting-edge approach to energy efficiency.
Nest Thermostats
The Nest Learning Thermostat is the first thermostat to get ENERGY STAR certified. It learns what temperature you like and builds a schedule around yours to help you save energy.
The Nest Thermostat E comes with the new frosted display and proven energy-saving features. And with the Nest app, you can control it from anywhere.*
Heating and cooling is the largest energy consumer in your home. If you're not home during the day, leaving your thermostat too high in the winter and too low in the summer is a big waste of energy.  A Nest thermostat also allows you to control the climate in your home remotely and shows your energy consumption in real-time.
Discover how a Nest thermostat can help you be smarter about your energy use and can save you money by making your heating and cooling system more efficient. You'll need WiFi capabilities to take advantage of all the below features available from the Nest thermostats:
REMOTE CONTROL:  Adjust the temperature or your home's schedule from your phone, tablet or laptop.
AUTO AWAY:  The Nest thermostat turns itself down when you're gone, so you aren't heating or cooling an empty home.
ENERGY HISTORY:  See when your system was in use each day along with how much energy you used throughout the month.
AUTO SCHEDULE (Nest Learning Thermostat):  The Nest Learning Thermostat remembers what temperatures you like and builds a schedule to match – no need to program manually.

ELIGIBILITY REQUIREMENTS:
Must have WIFI capability.
Must be an HCEC member.
At least 18 years old.
Have a central air conditioning unit.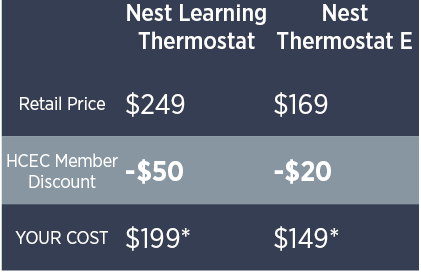 Join the Seasonal Savings Program Today!
You can now save energy by joining the Seasonal Savings Program offered by Nest. Small adjustments to your thermostat's temperature schedule can lower your energy bill. But it's difficult to figure out how to maximize savings without sacrificing comfort. And nobody wants to constantly fiddle with their thermostat. Seasonal Savings can help you save energy automatically.
It's easy to set up. Just watch for it to appear on your Nest thermostat or in the Nest app, and select the option to participate. And best of all, it's free from Houston County Electric Cooperative.
What the Seasonal Savings does:
Seasonal Savings can give your Nest thermostat temperature schedule a tune-up in the early winter and summer by automatically making small changes to some temperatures in your schedule to make them more efficient. It uses everything your Nest thermostat has learned about your home and temperature preferences to find ways to save energy without compromising comfort. In areas where energy costs peak during certain times of day, Seasonal Savings may focus on saving you energy during those peak times.
When Seasonal Savings is adjusting temperatures, the changes it makes are subtle, just a fraction of a degree each day. Over the course of the entire tune-up period, the changes typically add up to about 1°F. The biggest temperature adjustments usually happen while you're asleep or away, so you may never even notice the changes made by Seasonal Savings.
Like any good assistant, Seasonal Savings keeps you in control. So if you don't like a temperature that it has set for you, you can simply change it - your Nest thermostat will learn the new temperature as well as your comfort preferences.